21 Dec

Interview by Ms Constantina Lemos, in December's edition for ELNAVI magazine

Vernicos Tugs and Italian Scafi lead the sector of Salvage & Towage in the Mediterranean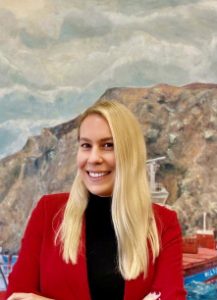 Two historic European tugboat companies Greek Vernicos Tugs & Salvage and the Italian company Scafi Società di
Navigazione S.p.A (Scafi) come up with a partnership setting new standards in the market of Eastern Mediterranean.
This joint venture came after the decision of the Italian Group to invest in the Greek company.
This resulted in a new company renamed Vernicos Scafi, operating mainly in Piraeus area, but also active in Salonica, Patra, Lavrion, Mykonos and also abroad (Italy, Croatia, Saudi Arabia and Morocco) with an extensive fleet of 46 tugs. Both Vernicos and Scafi groups have a long family heritage in the towage business, and this joint venture also coincides with a handover between generations. The leadership of the company is now in the hands of Mr. Dimitris, Mr. George Vernicos and Mr. Paolo Visco.
In the interview that follows Ms Constantina Lemos, Salvage Director, explains the advantages of win-win deals in
the sector of salvage & towage and describes the challenges and the future plans of the new business outfit.